PRESS
Does Your Brand Identity Tell Your Story in 90 Seconds?
FACT: We are visual people.
Scientific research show that we make snap judgments about products and companies within the first 90 seconds—and between 62% to 90% of that initial "gut feeling" is influenced by your brand's identity.
Research also tells us that the human brain learns and reacts much faster to visuals than to text—in fact, 60,000 times as fast.
Brand Identity Tells a Chapter in Your Story
Your brand identity comprises all the visuals: from photography to color palettes, typography to logo design. Brand identity is what makes your company's first impression on potential customers.
Ubiquitous logos have remained constant for decades, such as IBM, Nike, Fedex and Apple. That's because their logos captured the company's essence and capitalized on shape recognition that maps to the human brain.
Did you know seeing a logo in color makes it more memorable than seeing it in black and white? In fact, ads in color are viewed 42% more often than the same ads in black and white.
—WebPageFX
Alignment is Not About Your Car's Front-End
Iconic, instantly recognizable brands tend to be fully aligned with their target audience. Unfortunately, very few companies actually take the time to understand and implement this strategy. Through our decades of working with companies to produce brand strategies, we've developed a process to achieve total brand alignment that works.
Fully aligned brands were rewarded with more than 200% their customers wallet share compared to unaligned brands.
—Gallup
We take the entire brand strategy process and divide it into three district categories or steps:
Brand Positioning, Brand Personality and Brand Identity.
We've written an ebook series titled The Quest for a Great Brand which explains just that.
The Quest for a Great Brand
Part One: Brand Positioning helps you discover what is unique about your company's products or services, focus your mission/values, and decides how you will approach differentiating your company in the marketplace.
As feelings like reputation, trust and relationship continue to sway business and purchasing decisions, our ebook Part Two: Brand Personality takes it one step further. It applies revolutionary marketing principles towards characterizing your company's brand position with archetype and persona studies. Based on decades of psychological research, invoking the right feelings in your ideal customers, whether they are consumers or company execs, is the cornerstone to remaining relevant and memorable.
And finally, with Part Three: Brand Identity ebook, you will discover how to merge all of your prior findings into visual results that differentiate you from the competition. All imagery choices for your company, from illustrations to iconography, logos to color palettes, help signal the right impression to your customers.
Whether you are B2B or B2C, our set of three ebooks will guide your company to become a beacon in a crowded marketplace.
Join us for our third and final ebook in The Quest for a Great Brand...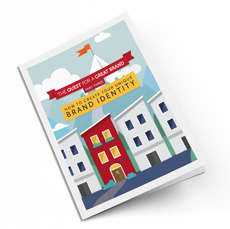 How To Create Your Unique Brand Identity
The final part of our three-part series on "The Quest for a Great Brand." Learn how to make the maximum impact in 90 seconds.
Sign up to get notified when future ebooks are released.